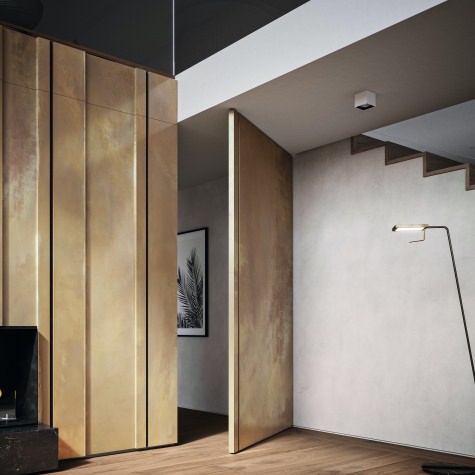 Modular wall panelling Urban_H
BOISERIE MODULARI MULTIFUNZIONE
Arte Brotto interprets and transforms the concept of boiserie, from high quality wall decoration to a compositional element that communicates with the spaces and organizes them. Urban_H is an innovative program, a system that declines itself in different shapes to design customized environments, where luxury meets the natural comfort of wood. Urban_H is a covering of existing walls, containment, partition walls, passage door. Up to 3 meters in height - and beyond.

The tailor-made Urban_H system allows you to customize the elements, in Walnut and Oak, according to the needs of the environments and of those who live in them, especially in terms of height, which can be defined to the centimeter. The vertical cut can become a handle for doors, swing or pivot, or for the opening of the storage modules and can be made in different finishes of metal, leather, lacquered glass, mirror, wood. Synthesis of decoration and function, Urban_H is covering dividing wall, wardrobe in different depths and containment also for the entrance and kitchen areas.

Nature and design dialogue with the best technology: Urban_H can interact with an application for smartphones and tablets for the diffusion of sound and the control of lighting fixtures, to create different atmospheres depending on the situation and time of day.