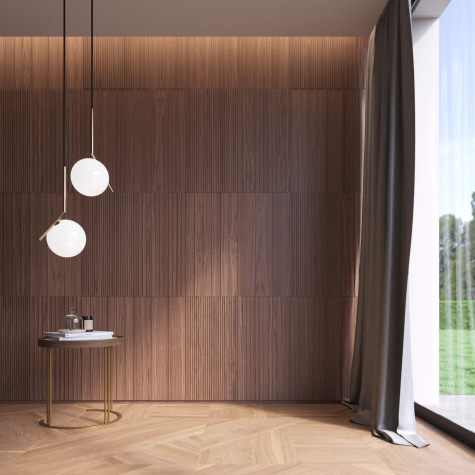 Modular wall panelling Code 3D
Code 3D is composed of 720 x 360 mm (28" x 14") modules, with different types of profiles. The main characteristic is the 3D effect, available in different decorations, Master V_Code, Mini V_Code, Nano V_Code e Master U_Code profiles. These exquisite design surfaces, available in Walnut and Oak, with three-dimensional patterns create an interplay of light reflections, enriching the setting where they are applied. The same pattern is applied with varying levels of intensity and with different bas-relief milling.
Main uses:
covering for existing walls – wall panelling
doors for cupboards/wardrobes
through doors (swing doors or pivoting doors flush with the wall panelling)
Wall covering
Panels with a layer of high-quality Walnut or Oak, with bas-relief milling work. A part of the solid wood is removed from each panel, to create the characteristic parallel lines. This process can be done with different profiles and different "densities", depending on the look the customer wishes to create. The system used to secure the panels to the wall can also be chosen by the customer, who can decide the direction they are to be installed in.
Other uses for "code 3D" coverings
Interior through doors (swing, sliding, pivoting), wardrobe/cupboard doors, etc. The feasibility of requests received will be verified by the Arte Brotto and Foglie d'Oro technical department.
Installation
The panels are supplied in the standard size, with a groove-to-groove interlocking system. They can be secured to the walls using wooden strips to enable distancing of the panels, facilitating normal air circulation and concealing any cables external to the wall. The wall can be completed using finishing profiles in colours that match those of the wood covering material.
The product comes from the creative synergy between Arte Brotto and Foglie d'Oro.
Request more information to receive the data sheet
Dimensions
W

cm

H

cm

D

cm

36 cm
72 cm
4 cm
Larger sizes on request